---

 ____                 _____
|  _ \ _ __ ___   ___|  ___|   _
| |_) | '__/ _ \ / __| |_ | | | |
|  __/| | | (_) | (__|  _|| |_| |
|_|   |_|  \___/ \___|_|   \__,_|

.. from the creators of GlobiFlow for Podio ...
A collection of hosted scripts to make Citrix Podio GlobiFlow better.

ProcFu (like Kung Fu but for Processes), is an add-on for GlobiFlow for Citrix Podio to greatly enhance the abilities of GlobiFlow and the functionality of your Citrix Podio account.
Powerful Scripts
The bulk of ProcFu is a collection of powerful scripts that you can simply call from any Flow using a Remote Post/Get action. And with the Chrome extension, this is even easier as all the authentication tokens and data fields are taken care of for you.

Check out the scripts.
Podio Mini Apps
Quickly and easily generate mini apps of your Podio data. The result is responsive and mobile-friendly for a superior experience on-the-go.
Authentication can also be linked to Podio, a password, or Google - so you can give outside contacts access to your data in a portal.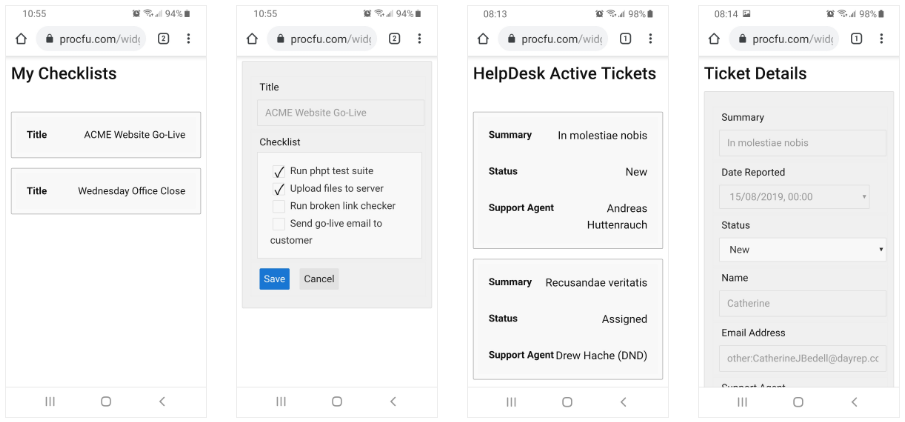 You can bookmark them on your mobile device or embed them in an iframe on your website for public consumption.
With just point and click, you control who can log in, what they can see, and what they can change.
See the examples on the Pushing Podio Blog.
Podio + GlobiFlow Deployment Manager
Easily Publish and Install collections of Podio Apps and GlobiFlow flows, as well as changes and updates to them. It's like the Podio App Market on steroids.

API Integrations
You can connect various outside API's directly to your ProcFu account, allowing you to easily interact with Google Drive, Xero, and others. With oAuth API services, you can also allow your Podio users to connect to any API that supports oAuth2 and perform any and all actions that the API allows.
Scheduled Jobs
Need more flexibility than GlobiFlow's date flows that only trigger once per hour? With ProcFu's scheduled jobs, you can set up triggers to GlobiFlow webhooks to specific times, or down to 5 minute intervals.
Native PHP Code
With ProcFu's advanced code editor, you can create your own PHP scripts which are not limited like GlobiFlow custom variables. You can use any PHP function, as well as your own, and even interact with MySQL databases.

Try it Free
Sign up for a risk-free 30 day free trial and experience ProcFu for yourself today. Login Here.