ProcFu's API-first Architecture
Our toolbox has evolved from humble beginnings to a powerhouse of features.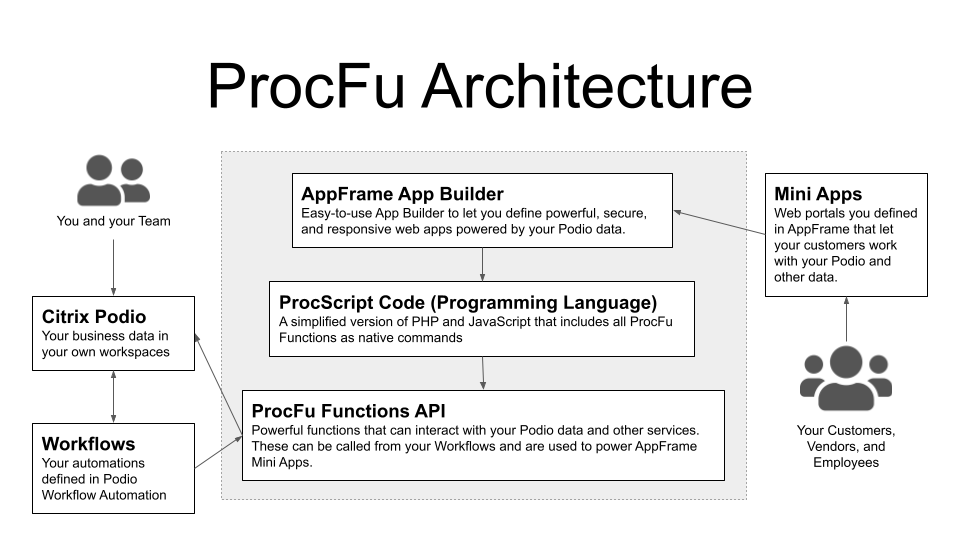 Functions API
It all started with API Functions to add missing features to existing workflow platforms. These functions can be called from Podio Workflow Automation, Zapier, or your own servers.
The function list has grown over the years and can perform many complex operations in Podio, Google, and other connected services, as well as perform multiple utility operations on your data.
AppFrame App Builder
Our easy-to-use app builder lets you build powerful web apps with point-and-click to allow external contacts to interact with your hosted data, be it in Podio, Notion, MySQL, etc.
Rendered apps are responsive by default and work well on any form factor, allowing you to build customer and vendor portals, employee self-service intranets, and more.
ProcScript Programming Language
ProcScript is a light version of PHP that includes most PHP constructs, with the addition of some of JavaScript's conveniences.
All functions from the ProcFu API are included as native commands in ProcScript, allowing you to write feature-complex code in record time.
Experience new Power in Podio for Free
Sign up for a risk-free 30 day free trial and experience ProcFu for yourself today.
No Credit Card
No Risk
No Commitment
Sign Up Here
Foo Bar Baz
Sit velit repellat incidunt. Ut voluptatem voluptatibus autem assumenda sed. Incidunt magnam ratione illum. Ut tempore minima mollitia excepturi voluptatem modi maxime.